So much for this not being personal, but these things are about people I know.


Peter, second from left.
My friend and colleague, Peter van Agtmael, has a book forthcoming entitled 2nd Tour Hope I Don't Die (on Portland's Photolucida imprint), comprised of award-winning photographs taken over the course of 3-4(?) years while he was embedded in Iraq and Afghanistan, plus some domestic follow-ups with troops at home and families of men he had befriended who died in combat. It is incredibly powerful, gut wrenching work, and you need to purchase it. A majority of the photos are on his website, linked above, but seeing them online doesn't have the same impact as on paper–a more meditative, sacred experience–with Peter's detailed captions. The title comes from a wall of graffiti Peter shot, the graphic is in the writer's handscript.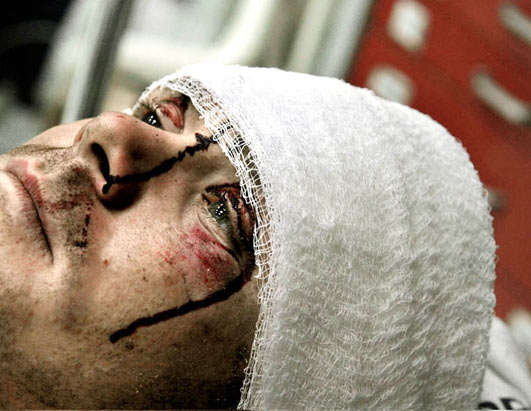 Photo Peter van Agtmael
Peter and I first met a year and a half ago, on assignment in Milan for a story on Italian house monsters Crookers. Milan is a storybook city, maybe more so than Roma–Il Duomo is photographed but not to the extent of the Coliseum or ruins, so there's a more acute sense of wonderment and discovery at the castles, now urban, that double as homes, the cobblestone streets and tiny parks–plus everyone there is impeccably dressed and fucking beautiful. Peter was exhausted, and after Milan going straight back to Afghanistan, so he was determined to live it up (not hard when hanging out with Crookers) because when he arrived in rural Afghanistan he would, he said, be eating "like a dog." I did not doubt him. I bought him a steak and forgot to expense it. He insisted on having gelato every meal, and one night when the Crookers were elsewhere we wandered around the city for 2 hours searching for the best gelatatero (not a word). We drove with DJ Bot up to Phra's apartment on the border of Switzerland and drank wine and limoncello under the shadow of the Alps. Peter got very, very drunk (ok we all did) and started overemphasizing his thank yous to the waiter: every time, a robust "GRAZ-EEE-UHHHHH!" I went back to New York, he took a flight to Kabul and I saw him again a few months later in the city, fresh with more tragic and terrifying stories from the warzone. I would tell them but they're not mine. You need to buy his book. Knowing him has irrevocably changed me. And he is a really rad dude.


Bot and Phra of Crookers with Phra's Jack Russell Terrier Spino (translation: "spliff") shot by Peter van Agtmael on Lake Maggiore north of Milan under the Swiss Alps. Idyllic day.
ON A LIGHTER NOTE. Last year we had this really awesome intern named Bethany Cosentino from San Diego who basically ruled at life.

She decided she hated New York and moved back where she rejoined her band Pocahunted. Perhaps related to her disdain for the city: the name of her new band Best Coast, whose crackling guitars and sunsetty vocal longing is the psychic feminine to Wavves, not just cause that is her homeboy. Her song "Sun Was High (So Was I)" is THE FUCKING SUMMER OF LOVE ANTHEM '09. I have this shit on repeat and I'm not convinced that the Summer of Love is not in fact the Summer of Hate (see: band, Crocodiles, NYC summer sucking). I can lose myself in it, a cloak from bullshit. You need to listen to it like right fucking now. In fact I will help you, press the little "play" arrow on the Best Coast fan vid below (she's been a band for three months and she already has a fan vid! RULING AT LIFE!)
Also she does a style column for us called Thrintage about thrifting and it is great!