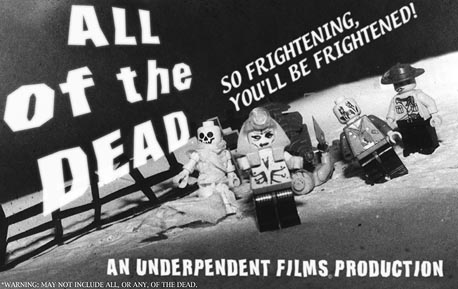 Brickfilms are stop-motion animated movies made with LEGOs, especially LEGO figures. They're also called "LEGO Movies". I hadn't heard of them until about an hour ago and though I'm totally not surprised that they exist, I am pretty entertained. So, here are some links to get you started:
a homepage of sorts
an hysterical silent-era style zombie movie featuring "some vague semblance of a plot in which explorers discover an ancient thingy which makes the dead rise from their graves, followed by random violence and intertextual references."
one of the more serious directors, with a kind of Tarantino-Kill-Bill-esque style and high production values. Check out especially his Bloody Snow. It is (not) surprising how many Brick Films feature extreme violence. He also has a strong link section (but I can't link to it properly because of his frame-based site) to other Brick Films; it's under Filmtips.
A contest run by the people at Brickfilm.com. A good place to see a broad cross-section of the movies.
from Boinx Software, a program for making stop motion animation using your iSight or other digital video or still camera. It lets you superimpose the live camera image with the previous frame and records directly to Quicktime.
Anyone else got any good ones?
Tagged: Brickfilm, stop motion, animation, LEGO, LEGO movies